Market overviews 2015 — Central & South America
51% of TV households receive digital TV in Central and South America (CSA). While the IPTV and Satellite platforms are digital the majority of terrestrial and cable households receive analogue signals. The total number 68% of primary terrestrial households in CSA receive an analogue signal.
56% of cable connections out of 36 million cable households were analogue at the end of 2014. Satellite is the third largest platform in the CSA region with 34 million households. Finally, IPTV is the smallest platform for TV distribution with only 1.5 million households.
The majority of TV viewers in the CSA region watch FTA TV, but pay TV is also enjoying healthy figures: 82.5 million households (or 55% of the total) watch FTA TV while 68.5 million households have chosen to subscribe to a pay TV service. Satellite and cable are the two largest pay TV platforms in the region, with each one controlling more than 30 million subscribers. Until the end of 2014 no Pay TV service is offered in the DTT platform, while the IPTV platform represents just 2% of the Pay TV market. Brazil had around 20 million pay TV households at the end of 2014, the largest in the CSA region. Mexico was second with 16.3 million and Argentina third with 9 million. Two thirds of the region's pay TV subscribers are coming from just these three countries.
The digitization of the terrestrial platform is progressing at a slow pace in the Central and South America. The majority of the countries will miss the 2015 deadline for digitization. Lack of financial resources delayed the switchover resulting in DTT adoption rates which are low. In many countries the only channels available on the DTT platform are those of the Public Service Broadcasters alongside a limited selection from commercial broadcasters.
The most attractive premium content in the region is broadcast exclusively on the pay platforms.
South America has largely adopted a Brazil-based variant of the Japanese DTT standard the ISDB-T. Mexico and along with other Central American and Caribbean countries have selected the standard ATSC. Colombia and Panama are the main outliers. Colombia uses the European standard DVB-T2. Panama has implemented the Brazilian variant of ISDB-T.
Puerto Rico is the only territory to have digitized its terrestrial broadcast. Mexico and Uruguay plan to finish their own analogue terrestrial TV broadcasting in December 2015.
---
Brazil Key facts – 2014
Population:

201.7 million

Households:

61.3 million

TV Households:

60.0 million

Pay TV Penetration:

34%

Broadband Penetration:

35%

Mobile Penetration:

140%
TV Ad Revenue: €7.2 billion
Brazil — platform overview 2014
 
Pay subs ('000)
Free subs ('000)
Platform digitization (%)

Terrestrial

0

20,840

23

Satellite

12,371

19,000

100

Cable

7,545

0

97

IPTV

191

0

100

Total

20,107

39,840

73
In Brazil state-owned TV stations have a very limited role in the FTA TV landscape of the country, covering just the sessions of the parliament, the senate and live broadcasts of judgements in the Supreme Federal Court and the Superior Court of Justice. From the 1970s, the FTA TV market has been dominated by the large commercial operators Rede Globo (the second-largest commercial TV network in annual revenues worldwide behind the US ABC Television Network), Rede Record, Sistema Brazileiro de Televisao (SBT), Rede Bandeirantes and Rede TV!.
The largest platform in Brazil is satellite. There is no terrestrial or cable TV coverage in large parts of the country, primarily because the costs of rolling-out the infrastructure are prohibitive.
As a result satellite TV has flourished. Around 32 million households received satellite TV on their primary TV set in 2014 representing 53% of total TV households. The majority of satellite TV homes watch free TV while the largest satellite pay TV operators in Brazil are Sky Brazil with 5.6 million customers, Claro TV with 4 million and Oi TV with 1.2 million.
Despite the restrictions in cable TV coverage nationwide all major metropolitan areas are covered by cable TV networks. At the end of 2014 around 7.5 million households used cable TV on their primary set. The cable infrastructure is largely digital with analogue networks in semi-urban areas. The largest cable TV operator in Brazil is Net Servicos, which holds around 89% of the cable market.
The terrestrial platform is used by more than 14 million homes as their primary means of TV reception. At the end of 2014 less than half of the terrestrial TV homes in Brazil converted to DTT: around 5.3 million. The digital switchover is set to be complete by 2018, having missed its original 2016 shutoff date.
The largest IPTV operator is Telefonica de Brasil with 95,000 customers.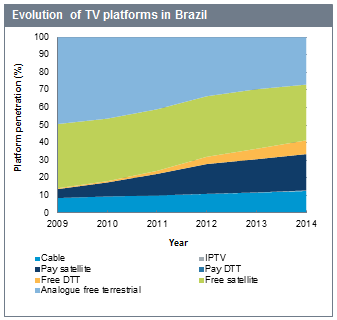 ---
Mexico Key facts – 2014
Population:

118.8 million

Households:

29.2 million

TV Households:

27.9 million

Pay TV Penetration:

58%

Broadband Penetration:

46%

Mobile Penetration:

85%
TV Ad Revenue: €2.6 billion
Mexico — platform overview 2014
 
Pay subs ('000)
Free subs ('000)
Platform digitization (%)

Terrestrial

0

11,599

54

Satellite

8,873

0

100

Cable

7,281

0

73

IPTV

163

0

100

Total

16,317

11,599

74
Mexico's state-owned television, the Mexican State Public Broadcasting System was created in 2010. It broadcasts three channels (transmitting in both analogue and digital), Canal Once, Canal 22 and the channel Una Voz con Todos (A Voice for All), offering mostly factual and educational content. Commercial FTA TV in Mexico is dominated by two large media conglomerates: Grupo Televisa and TV Azteca (or simply Azteca). Grupo Televisa operates two TV networks, Canal de las Estrellas and Canal 5, while TV Azteca operates another two TV networks, Azteca 7 and Azteca Trece. Another major commercial FTA broadcaster in Mexico is Multimedios Television.
11.6 million Mexican homes exclusively consume terrestrial TV. Mexico has started its DTT transmissions from the city of Tijuana, in the borders with the USA, in April 2013. Around 5.3 million TV households receive analogue terrestrial TV while around 6.3 million have converted to DTT. The Mexican government planned to shut off analogue broadcasts by end-2015, however this switchover is unlikely as a large portion of the populace cannot afford the purchase of a DTT receiver. In an effort to keep the process on track the Mexican government plans to distribute 13.8 million digital TV sets before end-2015 to 44.3% of low-income families.
At the end of 2014, satellite had managed to attract 8.9 million connected homes while cable controlled 7.3 million TV households. The satellite platform in Mexico is digital, while 25% of cable customers receive an analogue service. The largest satellite pay TV operators are Sky Mexico which had 6.7 million subscribers and Dish Mexico with 2.6 million. The largest cable pay TV operators are Megacable with 2.4 million subscribers and Cablemas with 1.2 million.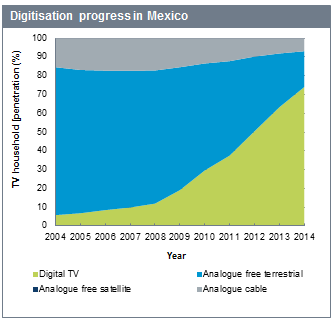 ---
Argentina Key facts – 2014
Population:

41.8 million

Households:

12.2 million

TV Households:

12.0 million

Pay TV Penetration:

75%

Broadband Penetration:

48%

Mobile Penetration:

149%
TV Ad Revenue: €1.7 billion
Argentina — platform overview 2014
 
Pay subs ('000)
Free subs ('000)
Platform digitization (%)

Terrestrial

350

2,983

90

Satellite

2,475

0

100

Cable

6,210

0

46

IPTV

0

0

100

Total

9,035

2,983

69
The public service broadcaster, Radio y Television Argentina Sociedad del' Estato, operates one TV network, TV Publica (formerly known as Canal 7), which has a nationwide reach via analogue (terrestrial and cable) and digital (terrestrial and satellite) transmissions. The FTA TV channels that attract the highest ratings are all commercial: Telefe (owned by a local subsidiary of Spanish telco Telefonica), El Trece (owned by the largest Media group in Argentina, Grupo Clarin), America 2 (owned by Multimedios America, another large media group in the country) and Canal 9 (owned by Prime Argentina S.A.).
The availability of free to air content in Argentina is extremely limited. Only one free channel is broadcast in 14 of Argentina's 23 provinces. As a result Argentina has a high rate of pay TV subscribers, with more than 75% of TV households subscribing to a paid service.
The absence of local broadcasters has greatly assisted the spread of cable TV alongside the inadequate terrestrial signal, with 6.2 million cable TV households. 60% of Argentina's cable network remains analogue, with full digitisation set to complete by 2020. The largest cable operator in Argentina is Group Clarin, which holds approximately 55% of the cable market.
DirecTV Argentina is only provider of satellite TV services in Argentina, with 2.5 million pay TV customers.
In 2013 the government passed a law which mandated the inclusion of a DTT tuner to all TV sets and set-top boxes. This has boosted the uptake of DTT leaving Argentina likely to hit its 2019 target for switchover.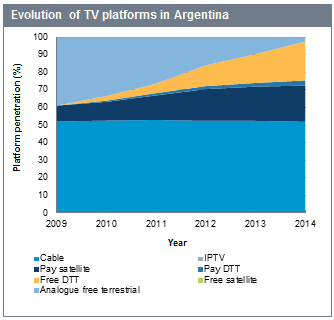 ---
Colombia Key facts – 2014
Population:

47.9 million

Households:

15.2 million

TV Households:

13.9 million

Pay TV Penetration:

36%

Broadband Penetration:

37%

Mobile Penetration:

104%
TV Ad Revenue: €1.3 billion
Colombia — platform overview 2014
 
Pay subs ('000)
Free subs ('000)
Platform digitization (%)

Terrestrial

0

7,259

65

Satellite

1,420

1,580

100

Cable

3,631

0

47

IPTV

0

0

0

Total

5,051

8,839

0
In Colombia the public service broadcaster (Radio Television Nacional de Colombia or RTNC) operates three national channels: one general entertainment channel (Canal Uno), one educational channel (Señal Colombia) and one focusing on the activities of state institutions (Señal Institucional). Eight more state-funded regional channels operate in various regions of the country. Colombia also has two national commercial FTA broadcasters: Caracol TV (owned by Cadena Radial Colombiana) and RCN TV (owned by Radio Cadena Nacional). Finally, 42 local commercial broadcasters operate in Colombia, with each service focusing on one or two cities.
While more than 9 out of 10 households in Colombia possess a TV set there is a clear gap between Bogota and the major cities and the rural areas of the country. While around 96% of households in Bogota have a TV set, this percentage drops to an average of 74% in many rural regions. This dividing line is also extended to the amount and variety of TV content offered to viewers in urban and rural areas: while residents of Bogota and other major cities have access to around 10 FTA channels (plus the option to subscribe to a cable or satellite pay package), people living in rural areas in the northeast mountainous regions of the country can access only two FTA channels.
More than one out of three TV households in Colombia (36% in 2014) subscribes to a pay TV service.  The majority of the cable TV networks are analogue, and digitization is unlikely to be complete before 2020. The largest cable pay TV operator is Telmex followed by the local telecoms operator UNE EPM Telecomunicaciones.
Free to air and paid for satellite services are available in Colombia. The largest pay satellite operator is DirecTV Colombia, a subsidiary of US-based DirecTV.
In contrast to its regional peers Colombia selected the DVB-T2 standard for its DTT platform, due to its cheaper set top boxes and less interference with mobile signals. Colombia aims to complete its switchover by end-2019.
https://adview.ru/wp-content/uploads/2015/06/timeline-image-1.jpg
513
770
Igor Belov
/wp-content/uploads/2018/05/logo.png
Igor Belov
2015-09-13 08:54:18
2015-09-10 08:59:30
Market overviews 2015 — Central & South America