Market overviews 2015 — Sub-Saharan Africa
Sub-Saharan Africa is lagging behind other regions in the level of digitization of television distribution technologies. At the end of 2014 only 21m homes had a digital TV set, representing 40% of the total number TV Households in the region. Sub-Saharan Africa is the only region where the level of digitization of the television distribution technologies is below 50%.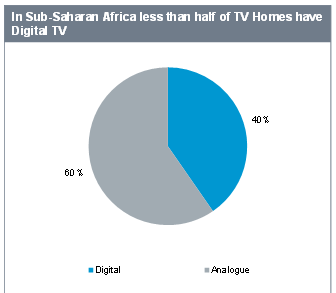 Sub-Saharan Africa is primarily covered by two TV platforms: satellite, both free and pay, alongside terrestrial. Cable TV and IPTV networks represent less than 1% of the total TV distribution market. The satellite platform has been digitized in the past ten years and is now 100% digital. Terrestrial TV is predominantly analogue: of the 34.5 million households relying primarily on terrestrial TV, only 10% have switched to digital terrestrial reception.
The transition from analogue to digital terrestrial TV (DTT) distribution is moving at a slow pace in the region. According to reports by ITU and pay TV operator Naspers, only 12 countries in Sub-Saharan Africa had launched DTT services by end 2014. Furthermore, only Rwanda and Mauritius have completed the transition to DTT, while Tanzania plans to switch off its analogue signal in June 2015. The vast majority of Sub-Saharan Africa countries will not meet the 17 June 2015 deadline for shutting off analogue terrestrial TV signal, set at the 2006 ITU Geneva Conference. We expect that the ITU will extend the deadline for switchover to 2020 for Sub-Saharan African countries.
The reasons why Digital Migration stalled in Sub-Saharan Africa are manifold: inadequate planning, indecision in selecting of the appropriate digital broadcasting standards, lack of financial resources, and reluctance from consumers to commit to purchasing the necessary equipment, and disagreements between governments and broadcasters on how to fund the simulcasting period.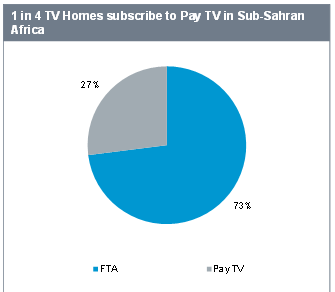 For many households in Sub-Saharan Africa a TV set is a luxury that they cannot afford, only 40% of households have a TV. According to UNESCO radio is the primary source for information and news. Another driver behind the low penetration of television is the lack of investment in rural TV coverage by governments. As a result Sub-Saharan African countries have the lowest number of TV sets per household.
Sub-Saharan Africa is predominantly a free-to-air (FTA) market. As of end-2014 only 27% of TV households subscribe to pay TV services. We attribute this to low household disposable income alongside the high level of unauthorized access to TV content. Satellite is the dominant pay TV platform in Sub-Saharan Africa with 11 million pay TV subscriptions in the region, accounting for around 78% of total pay TV subscriptions.
Pay DTT is growing fast in Sub-Saharan Africa. Pay DTT is cheaper than pay satellite TV, which is increasing the appeal of pay DTT to the growing middle classes. Two operators dominate the pay DTT market in Sub-Saharan Africa: Naspers and StarTimes. Both operators have agreements with African governments to act as sub-licensees for rolling-out DTT networks, but which also allows them to launch pay DTT services. This approach serves the interests of the governments in that they lack the financial resources to launch DTT networks themselves, and the operators through their pay TV platforms. The operators have substantially benefitted from this with StarTimes attracting 2.1 million subscribers by end-2014 and while Naspers' GOtv service recorded 900,000 customers at the end of 2014.
---
South Africa Key facts – 2014
Population: 50.8 million
Households: 15.1 million
TV Households: 12.0 million
Pay TV Penetration: 47%
Broadband Penetration: 23%
Mobile Penetration: 137%
TV Ad Revenue: €601 million
South Africa- platform overview 2014
 
Pay subs ('000)
Free subs ('000)
Platform digitization (%)

Terrestrial

0

5,573

9

Satellite

5,581

849

100

Cable

0

0

0

IPTV

0

0

100

Total

5,581

6,422

58
South Africa has the highest penetration of TV sets across Sub-Saharan Africa, at 79.5% at end-2014. South Africa has a high take up of pay TV services with 47% of TV households subscribing to a pay TV service. The only active platforms for TV distribution in South Africa are terrestrial and satellite. South Africa's terrestrial TV platform is predominantly analogue. State-owned Sentech has launched pilot DTT services, with a national launch planned for 2015. To support this Sentech has deployed its DTT network to 84.2% of the population.
The Digital Migration process has stalled in South Africa and it will miss the 17 June 2015 deadline for shutting off all analogue terrestrial broadcasting. The main reason behind the delay in implementing the digital switchover has been mismanagement by the government. Initially, the government was indecisive about which digital broadcasting standard to implement with successive Ministers of Communications split between supporting DVB-Tx and ISDB-T. Following the adoption of DVB-T2, the government deliberated over the issue of integrating an encryption module into the DTT set-top boxes. Additionally, the government had to withdraw its promise to subsidise the purchase of DTT set-top boxes for 5.5 million low-income households, due to lack of the funding. The Government has not officially disclosed the final deadline for terrestrial switchover.
Satellite is the only pay TV platform in South Africa. There are 5.6 million satellite TV subscribers in South Africa, with a further 800,000 households capable of receiving satellite TV broadcasts. There are two satellite operators active in South Africa, StarTimes and Naspers. Naspers through its DStv service dominates the market with 96% market share.
South Africa's media regulator, ICASA, granted provisional pay TV licences to five companies in April 2014. Of these, Siyaya TV has been granted a full licence to provide pay TV services over satellite.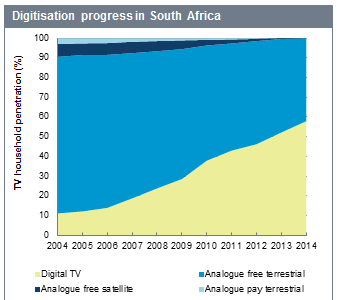 Two broadcasters dominate the FTA television market: the public service broadcaster SABC and the commercial E.tv. SABC broadcasts three channels: SABC 1, SABC 2 and SABC 3. All are general entertainment channels broadcasting in English as well as in other official languages of the country (Afrikaans, Zulu, Xhosa, Sotho, Tswana). E.tv broadcasts two channels for free: the e.tv channel, which is a general entertainment channel and is frequently on the top of TV ratings in South Africa, and the all-news channel eNCA. E.tv has also created a number of thematic channels which are available only through the pay satellite platform.
---
Nigeria Key facts – 2014
Population:

178.5 million

Households:

35.2 million

TV Households:

15.9 million

Pay TV Penetration:

23%

Broadband Penetration:

0.1%

Mobile Penetration:

78%
TV Ad Revenue: €220 million
Nigeria — platform overview 2014
 
Pay subs ('000)
Free subs ('000)
Platform digitization (%)

Terrestrial

2,612

2,466

52

Satellite

960

9,858

100

Cable

0

0

0

IPTV

0

0

0

Total

3,572

12,324

85
Nigeria is the most populous country in Sub-Saharan Africa and has the highest number of TV households. However, less than half of the nation's households are equipped with a TV set (around 45%) due to low average wages and relatively high cost. More than three out of four TV households in Nigeria, watch FTA TV while around 3.6 million subscribe to at least one pay TV service. Satellite is the main method used for receiving TV with 10.9 million households on both pay and free TV platforms, followed by terrestrial (analogue and digital) with 5.1 million
Digital television is still transitioning from analogue with half of the households having made the transition by 2014. Due to the lack of funds the Nigerian Government decided to «outsource» the roll-out of DTT networks. In 2010 the Public Service Broadcaster NTA formed a joint company with the Chinese pay TV operator StarTimes called NTA StarTimes. This offers a pay DTT service while rolling out the national DTT network to cover the 25 largest Nigerian cities. The shares in the company are split as follows: 70% StarTimes and 30% NTA. StarTimes is paying a fee to the Nigerian Regulator for every Nigerian city that the pay DTT service is expanding to. At the end of 2014 the Chinese company had over 2 million DTT subscribers in Nigeria, making StarTimes the biggest pay TV operator in the country. The only other operator who offers a pay DTT service is Naspers, with its GOtv service  The analogue shut-off date has been postponed at least twice (from June 2012 to January 2015, then June 2015) and it is highly unlikely that Nigeria will have fully implemented the switchover by June 2015.
The satellite platform was fully digitized in the mid-2000s and is the main FTA platform in Nigeria attracting almost two thirds of the households pay TV services are also offered on satellite, attracting 960,000 subscribers at the end of 2014. The large bulk of satellite customers subscribe to the Naspers owned service DStv), followed by MyTV Africa and newcomer CONSAT, which launched in June 2014.
For free-to-air TV more than 70 commercial channels are broadcast, however the majority of them do not have national coverage. Advertising revenues are often inadequate to fund these channels and so some are funded by entrepreneurs, politicians, religious bodies or the armed forces. It is common for channels to have short lifespans.  
The Nigerian Television Authority (NTA), formerly known as Nigerian Television, is the public service broadcaster of the country. It operates more than 31 TV stations across all the regions of Nigeria. The majority of its channels broadcast general entertainment content, while a few are thematic channels focusing on news and sports. The largest commercial FTA networks in Nigeria are Galaxy TV (the first broadcaster in the country), Africa Independent Television (AIT) and Silverbird. The commercial broadcasters' networks cover only some regions of Nigeria and not the whole country.
---
Senegal Key facts – 2014
Population:

13.2 million

Households:

1.7 million

TV Households:

1.3 million

Pay TV Penetration:

6%

Broadband Penetration:

3%
Mobile Penetration: 97%
Senegal — platform overview 2014
 
Pay subs ('000)
Free subs ('000)
Platform digitization (%)

Terrestrial

0

1,035

0

Satellite

63

52

0

Cable

0

0

0

IPTV

0

0

0

Total

63

1,087

0
The first FTA broadcaster in Senegal was the public service broadcaster, Radio Television Senegalaise (RTS). RTS operates two channels (RTS1 and RTS2) which are general entertainment channels and cover the whole country. Commercial broadcasters (such as 2Stv, SN2, WALF TV, TOUBA TV, SENTV) have been present in the country since 2001, when the government liberalized the regulatory environment. However, these TV services are available only in the capital Dakar and a few major cities.
61% of households in Senegal have a TV set, which is well above the average for Sub-Saharan Africa. The two major TV distribution platforms in the country are analogue terrestrial and digital satellite. Cable TV networks have been rolled-out in Dakar and a handful of other cities for redistributing satellite channels. There are no pay TV operators on the cable TV platform in Senegal. Instead there a number of small local cable providers. The cable service is regulated as a utility in Senegal. Around 10% of TV households used satellite. The satellite platform has been fully digitalized.
There are two pay satellite operators in the country: Excaf and Canal+ Horizons. Canal+ Horizons is a satellite service owned by Canal Plus Group which launched in Sub-Saharan Africa in 2001. The service offers premium content such as sports and African movies. However, it has suffered heavily from piracy  due to distribution of illegal decoders and cards by local dealers. Multiplatform operator, Excaf, offers the other satellite pay TV service. Excaf is trying to enlarge its customer base by focusing more on the provision of local content including movies, music, TV shows and the matches of the national football team of Senegal.  
Senegal is in the early process of transitioning from analogue terrestrial to exclusively digital broadcasting. It is unlikely that the country will meet its June 2015 deadline. Senegal tried to follow the French system by assigning DTT licences to the content operators, rather than network operators. This system has led to delays as the country lacked the necessary financial resources to fund the roll-out of the DTT network. Furthermore, the Senegalese government had decided to subsidize 50% of the price of DTT set-top boxes, further complicating the funding issue.
In 2014 in an effort to speed up digitisation of the terrestrial platform the government outsourced the rolling-out of the DTT network to Excaf. The DTT platform in Senegal, according to the government plans, will comprise 4 multiplexes and will offer up to 60 channels, of which Excaf has the right to use 2 of the 4 multiplexes for launching pay services on the DTT platform.
---
Kenya Key facts – 2014
Population:

45.0 million

Households:

11.2 million

TV Households:

3.5 million

Pay TV Penetration:

16%

Broadband Penetration:

1%

Mobile Penetration:

69%
TV Ad Revenue: €71 million
Kenya — platform overview 2014
 
Pay subs ('000)
Free subs ('000)
Platform digitization (%)

Terrestrial

275

2,725

34

Satellite

295

205

100

Cable

0

0

0

IPTV

0

0

0

Total

570

2,930

43
The FTA TV market in Kenya is dominated by the channels offered by the three largest media groups in the country: Standard Media Group, Royal Media Services and Nation Media Group. As well as owning newspapers and radio stations, Nation Media Group runs one TV channel, NTV. Standard Media Group offers a popular general entertainment channel, KTN, while Royal Media Services broadcasts another popular general entertainment channel, Citizen TV. The public service broadcaster of Kenya, Kenya Broadcasting Corporation (KBC) broadcasts two channels – the general entertainment channel KBC 1 and the culture-led Heritage TV. The KBC channels broadcast in English and Swahili while some of their programmes are also broadcasted in the other Kenyan local languages.
With more than 45 million people, Kenya had at the end of 2014 more than 11 million households but only one in three (32%) was equipped with at least one TV set. For many Kenyan homes, as indeed is the case for many homes in Sub-Saharan Africa, the possession of a TV set is a luxury.
As in the rest of Sub-Saharan Africa the majority of TV households in Kenya are still receiving analogue signals, mainly from the terrestrial platform. However, in Kenya the digitization of television progressed with a slightly faster pace than in the rest of the continent. At the end of 2014, around 1.5 million homes or 43% of the total number of TV households in the country were receiving digital TV. It is marginally higher than the average for the whole of Sub-Saharan Africa which stood at 40% in 2014.
Kenya completed the digital transition in April 2015. . The first DTT signal was launched in the capital city, Nairobi, on 09 December 2009.. At the time of launch, the decision was taken to split the DTT network roll-out process. The government funded the Public Service Broadcaster, KBC, to roll-out a network and to carry its own channels (through its transmission technology offspring – Signet). However, the construction of the DTT network for commercial broadcasters was outsourced to a foreign company — the Chinese Pan Africa Networks Group (a sister company of pay TV operator StarTimes). As a method of compensation the Chinese network operator was licensed to launch a pay service in the DTT platform. At the end of 2014, the capital city of Nairobi shut off all analogue terrestrial signals.
Satellite is the second largest TV distribution platform in Kenya after terrestrial (analogue and digital). It is estimated that more than 500,000 TV households relied primarily on satellite for receiving their TV signal at the end of 2014. Satellite is offering FTA and pay content. At the end of 2014 there were three satellite pay TV operators in Kenya: DStv (owned by the South African Naspers Group), Zuku (owned by Wanachi Group – an East African Media & Telecoms business group) and StarSat (the satellite service of StarTimes launched in October 2014).
https://adview.ru/wp-content/uploads/2015/06/timeline-image-1.jpg
513
770
Igor Belov
/wp-content/uploads/2018/05/logo.png
Igor Belov
2015-09-11 08:40:17
2015-09-10 08:46:47
Market overviews 2015 — Sub-Saharan Africa